solar-street-light


These solar driven LED streetlights produce powerful illumination, are very easy to install and without the hassles of digging, laying down cable wires or need for transformer distribution points. The use of solar power coupled with energy-efficient luminaires make solar street lights doubly environmentally friendly. The street light configuration can be customized as per the requirement of back-up hours, wattage and dimming hours.

These solar lighting systems offer an environment friendly and economical option to light up streets, boulevards, highways, yards, compounds, parks, boundary walls, car parking areas, military and civilian security installations, airports, ports or indeed, any public space.

Benefits
Easy and ready to install
Independent of the utility grid
High efficiency circuitry
Automatic dusk to dawn operation
Power efficient
Overcharge protection circuit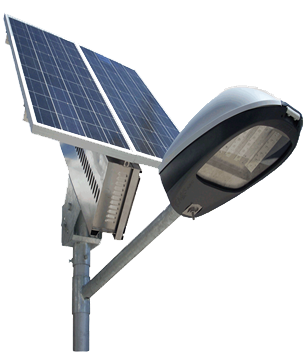 Method of Operation
♦ During the day, the solar panel converts sunlight into electricity which is stored in a re-chargeable battery.
♦ At night, the light turns on automatically using the electricity stored during the day.
♦ The number of hours the light stays on is dependent on your geographical location, seasonal lighting, battery, the LED size and weather conditions.